Brenda
is the oldest daughter and child of the Aarons family. Brenda's not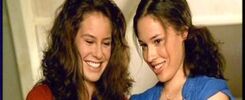 very clever or responsible as much as
Ellie is
and doesn't spend much time with
Jess
. When she tells
Jess
that
Leslie
is dead she almost seems to take pleasure in it, but her dad tells her to be quiet. Previously in the book she'd made fun of
Leslie
for wearing boys' clothes and not acting feminine enough and in the 2007 film, she teased
Jess
after he befriended Leslie calling him "Weird and Weirder."
She is taller than Jess, about 6 ft.
She is portrayed by Devon Wood.
Ad blocker interference detected!
Wikia is a free-to-use site that makes money from advertising. We have a modified experience for viewers using ad blockers

Wikia is not accessible if you've made further modifications. Remove the custom ad blocker rule(s) and the page will load as expected.