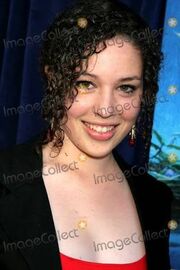 Devon Wood
is a New Zealand actress, known for Bridge to Terabithia (2007), Treasure Island Kids: The Monster of Treasure Island (2006) and Treasure Island Kids: The Battle of Treasure Island (2006).
2008 Youth Artists Awards - Winner - Best Ensemble Cast in a Feature Film - Bridge To Terabithia.
2003 Royal Trinity College, Auckland - Distinction in Speech & Drama, Grade 4.
Her height is 5' 3½" (1.61 m).
Her nickname is Chuck.
She now lives in London.
She did commercials.
Ad blocker interference detected!
Wikia is a free-to-use site that makes money from advertising. We have a modified experience for viewers using ad blockers

Wikia is not accessible if you've made further modifications. Remove the custom ad blocker rule(s) and the page will load as expected.