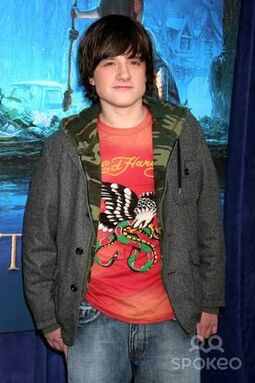 Joshua Ryan "Josh" Hutcherson
(born October 12, 1992) is an American film and television actor who is best known for his role as Peeta Mellark in
The Hunger Games (film series).
He played Jess Aarons in the 2007 Disney fantasy drama film Bridge to Terabithia.
Biography
Edit
Joshua Ryan Hutcherson was born on October 12th, 1992 in Union, Kentucky to Michelle and Chris Hutcherson. He has one younger brother, Connor. From the age of four, Josh knew that he wanted to be an actor. In order to pursue his goal, Josh and his family moved to Los Angeles when he was nine years old.
==
Trivia ==
Has one younger brother, Connor Hutcherson.
His mother, Michelle Fightmaster, is a former Delta Airlines employee, and his father, Chris, is an analyst for the EPA (Environmental Protection Agency).
Good friends with Bridge to Terabithia co-star, AnnaSophia Robb.
He has two dogs named Diesel and Nixon.
Ad blocker interference detected!
Wikia is a free-to-use site that makes money from advertising. We have a modified experience for viewers using ad blockers

Wikia is not accessible if you've made further modifications. Remove the custom ad blocker rule(s) and the page will load as expected.