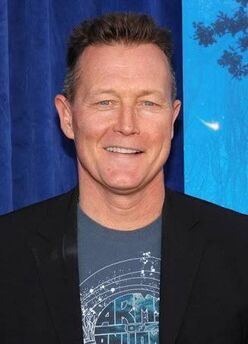 Robert Patrick
 portrays
Jack Aarons
the protagonist's Father.
Biography
Edit
Born 5 November 1958, Marietta, Georgia, USA, Patrick is perhaps best known as the actor who played the human guise of the T-1000. Immediately after being cast in Terminator 2: Judgment Day (1991), Patrick took a martial arts crash course, and began exhaustive strength, endurance, and weapons-training sessions. "For three months," he says, "all I did was sleep, eat, take vitamins, and train.". Learning traditional martial arts further enabled Patrick to minimize emotional facial expressions. Robert Patrick has played the T-1000 in three different movies: Terminator 2: Judgment Day (1991), Wayne's World (1992) and Last Action Hero (1993). He then took up the character once again for theme park attraction T2 3-D: Battle Across Time, a short film filmed in a 3-D process that makes the film appear to jump out at you. James Cameron describes his casting of Robert Patrick on the Terminator 2 DVD, as a deliberate contrast to the original Terminator character portrayed by Arnold Schwarzenegger: "I wanted to find someone who would be a good contrast to Arnold. If the 800 series is a kind of human Panzer tank, then the 1000 series had to be a Porsche." He is often cast as a villain due to his intense presence and cold blue eyes.
Ad blocker interference detected!
Wikia is a free-to-use site that makes money from advertising. We have a modified experience for viewers using ad blockers

Wikia is not accessible if you've made further modifications. Remove the custom ad blocker rule(s) and the page will load as expected.